By this point, you've followed the previous setup information and should be ready to begin working with a demo site.    Which means that you've chosen a CMS platform, registered a domain name, selected an appropriate web host, configured DNS, and are now either at the point of choosing a 1-click WordPress instance, or your web host has sent you a link to get started.  Fantastic!  Pick a username and password, and click "Install WordPress".  Then click Log In.
You'll be presented with the WordPress Dashboard.  From this console, you'll be able to change everything about the look and feel of your site, create content, and so on.  Good thing too… because by default your site probably looks something similar to this…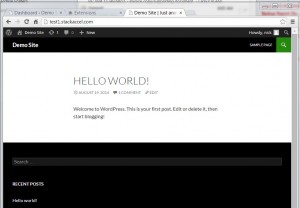 Now, before you get started changing your themes, let me introduce you to one of the biggest challenges with working with WordPress today… separating the good, from the bad (and the ugly).  This isn't a problem unique to WordPress, or themes, or plug-ins… it's a problem shared by any platform that has hit critical mass.  As with Microsoft Windows, or Android… the problem usually isn't finding a tool or an app for the job… the real problem is often finding a good tool for job.  Few places is this more true than when applied to themes.  There's just so many out there, and if you're getting started, it's really hard to know what's good or bad until you've invested quite a bit of time building some familiarity.  So, let me try and save you some time.  In general, you want something that's being actively developed or maintained by an organization was some staying power… you don't want the theme to disappear next week.  You probably also want something that's easy to manage.  Because even if you, or some of your technical resources are doing the initial work, it's likely that you'll want to turn over maintenance to someone else – marketing, or HR, etc. and in that case, you'll need a theme that's not too terribly hard to work with.  Finally, you'll want something that's responsive and looks good on mobile  devices (more on this later).
Beginner: If you're just starting out and want to get your feet wet without spending hours looking at "free" themes, check out Themify.me.  Themify.me has plenty of good options – as in, themes that look pretty good, are generally easy to work with, and tend to not break your WordPress install.  For your time, it might be worth picking up "The Master Club" offering ($139), as it offers a good value and saves you from having to wade through a lot of junk.  At the same time it gives enough different themes and options to understand what's possible.
Intermediate: While not necessarily as easy to get started with, the Avada theme from Theme Fusion is a popular and powerful option. At the risk of overselling this, it's the #1 selling theme on Themeforest, run on more than 85,000 web sites.  While that might sound overused, the reality is that because it's highly customizable you probably won't find lots of other sites with a similar look and feel.  It's not quite as beginner friendly as Themify.me's stable of quality themes, but Avada pretty looks good with only a modicum of configuration work, and probably isn't going to disappear overnight.
Advanced: In addition to what standard themes, there are also theme frameworks.  Two of the more popular  commercial theme frameworks include the Genesis Framework, and Thesis.  Theme frameworks allow you to extend the capabilities of WordPress.  You can think of them as platforms that sit on-top of WordPress and enable you to add functionality (e.g. drag and drop site layouts, replace or eliminate plug-in functionality using small code snippets, etc.).  You still need to add a child theme to skin the theme framework and provide a 'look-and-feel', so for starters you may just want to stick to the themify.me or Avada route, if for no other reason than economics.  If you really want to go work with a theme framework, let me save you some research.  There are a lot of conflicting articles and opinions discussing Genesis and Thesis.  When it comes down to it, Genesis is probably going to be easier to work with than Thesis 2.  Thesis lost some of its momentum when they released Thesis 2.  When it was released, there was painfully little documentation, and so it was more than a bit confusing for new comers.  Today?  Most of those documentation problems and bugs have been fixed.  Personally, I like Thesis 2…so your mileage may vary .  Unless you have a child theme that you absolutely have to have, and you want to use a theme framework, Genesis is probably going to be the easier of the two to work with.